Harga dan Stok dapat berubah sewaktu-waktu, tanpa pemberitahuan terlebih dahulu
Power Freeze & Power Cool
Ice Maker
Segar 2x Lebih Lama
Dengan teknologi Twin Cooling Plus™ satu-satunya lemari es yang memiliki dua sistem pendinginan terpisah sehingga menjaga makanan segar 2x lebih lama. Anda tidak perlu khawatir lagi makanan mubazir karena layu dalam kulkas!
*Berdasarkan internal test RT22SCSW2 (Non Twin Cooling) dibandingkan RT6000K (Twin Cooling Plus).
5 Kombinasi Mode Pengaturan
Fleksibilitas ruang kulkas dengan 5 Mode Pengaturan dari Smart Conversion. Anda dapat mengubah fungsi freezer menjadi kulkas supaya dapat menyimpan lebih banyak bahan makanan segar seperti sayur dan buah pada saat momen tertentu. Atau, matikan freezer untuk lebih menghemat konsumsi listrik.
*5 kombinasi pengaturan hanya tersedia pada tipe tertentu
Tetap Dingin Hingga 12 Jam Meski Listrik padam
Teknologi Coolpack menjaga makanan dalam freezer tetap dingin sampai dengan 12 jam meski listrik padam. Sehingga es krim tidak mudah mencair dan daging tidak mudah rusak.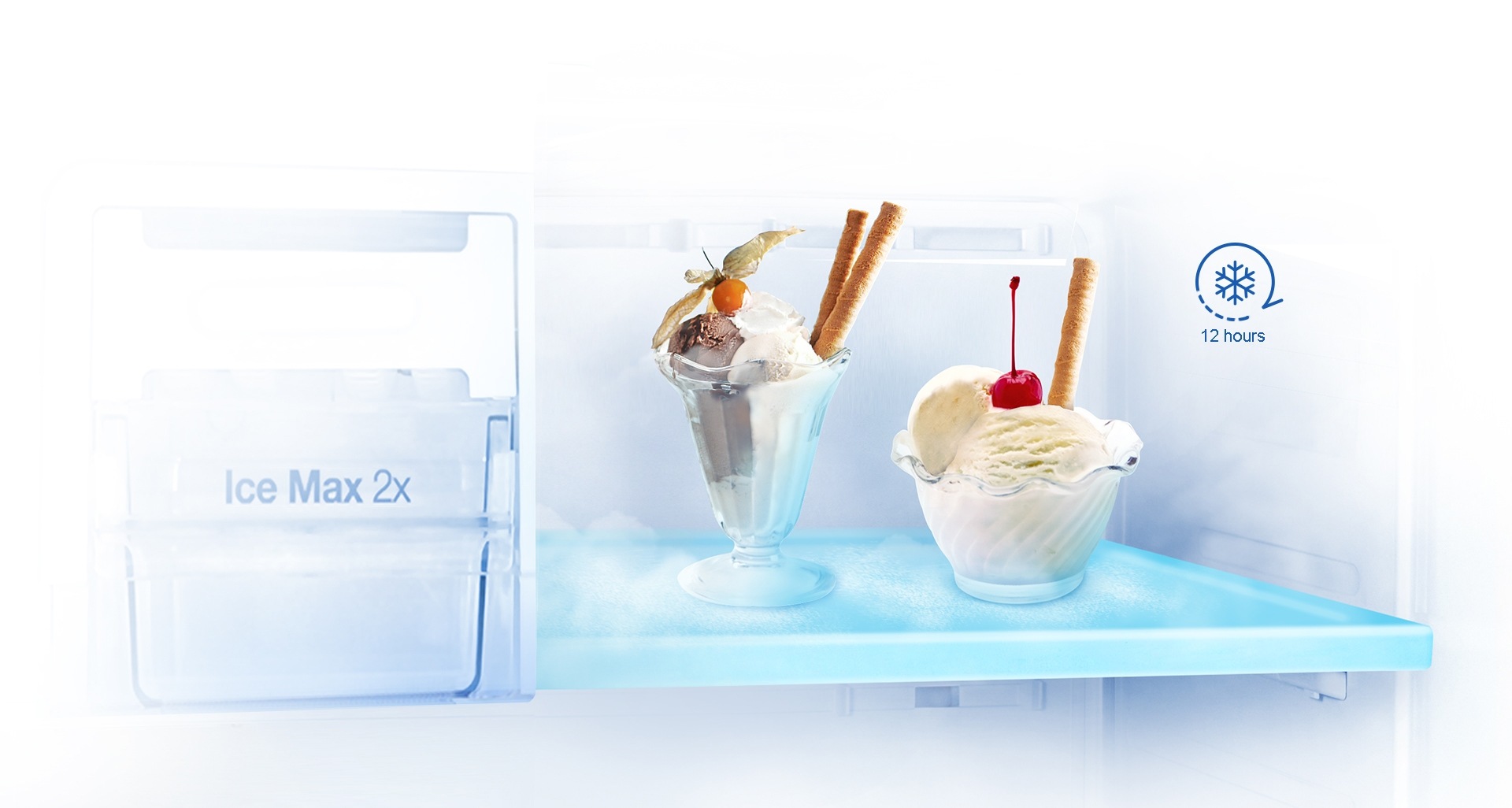 * The temperature of the compartments remains under 15? using low electricity
Mendinginkan Lebih Cepat
Hanya dengan sekali tekan, fitur Power Cool dapat mendinginkan minuman dan makanan dalam 3 detik. Sementara Power Freeze dapat digunakan pada saat ingin membekukan makanan dan membuat es batu lebih cepat.
Lebih Mudah Menjangkau Makanan
Tak perlu lagi kesulitan meraih makanan di bagian belakang, terutama ketika lemari es terisi penuh. Lemari es Samsung dilengkapi dengan Easy Slide, rak yang dapat ditarik keluar dengan mudah, sehingga memudahkan menyimpan dan mengambil makanan..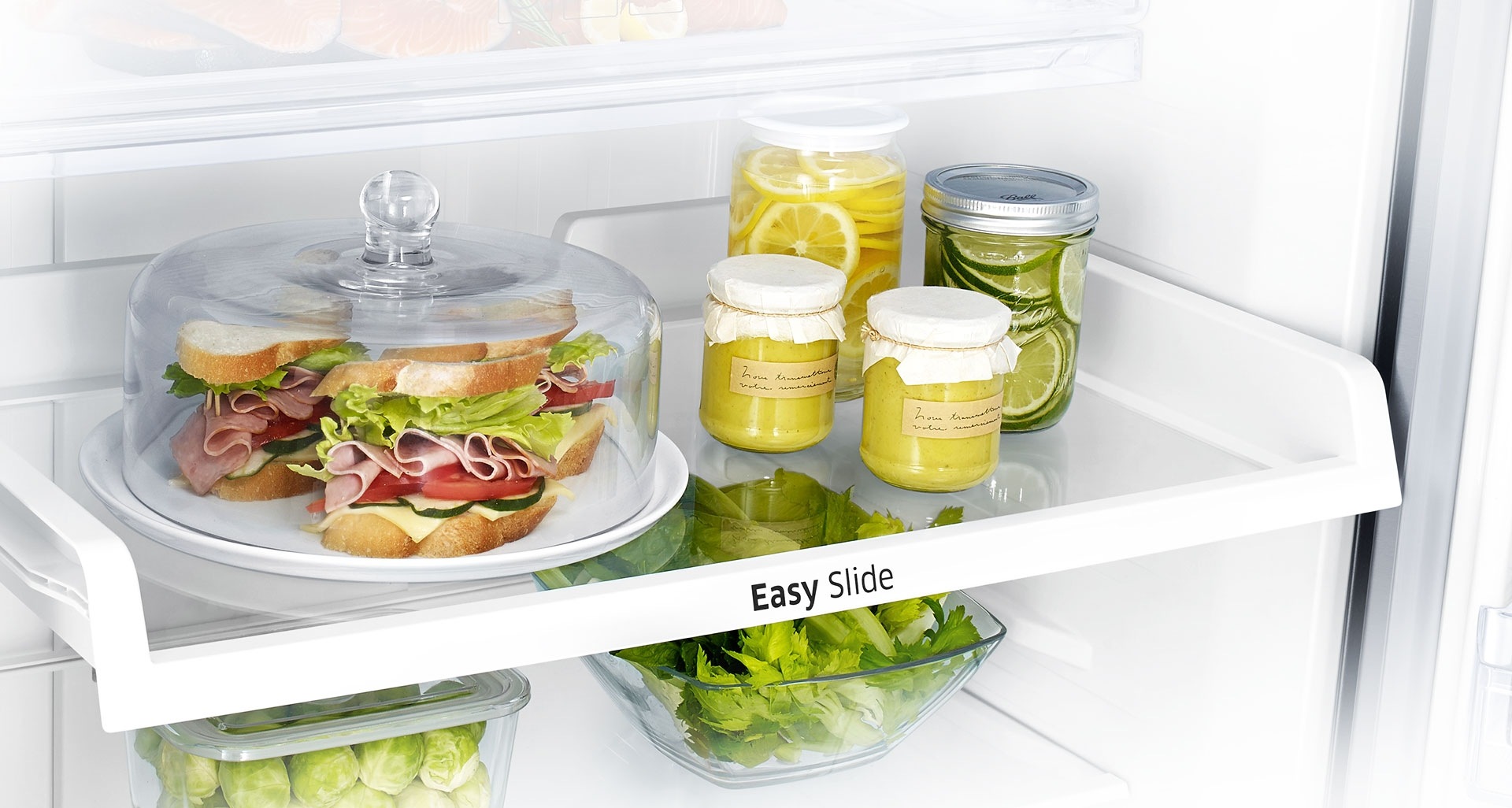 Tidak Bising, Awet, dan Hemat Energi
Samsung Digital Inverter Technology secara otomatis menyesuaikan kecepatan bekerja sesuai dengan kebutuhan pendinginan. Hal ini membuat kompresor tetap awet, penggunaan energi menjadi lebih efisien, dan lebih tahan lama. Oleh sebab itu, Samsung mampu memberikan jaminan garansi 10 tahun untuk kompresor Digital Inverter.*
*Garansi 10 tahun hanya berlaku untuk kompresor.
Menjaga Udara Agar Tetap Bersih
Dilengkapi dengan Anti-bacterial Protector yang menjaga udara tetap bersih dan higienis. Menyaring bakteri dan bau tak sedap melalui filter aktif, sehingga rasa dan kesegaran makanan tetap terjaga.
Lebih terang dengan LED light
Penerangan LED bekerja dengan lebih efisien, dengan lampu yang lebih terang, hemat energi, dan tahan lama dibandingkan penerangan konvensional.