*HARGA DAN STOK DAPAT BERUBAH SEWAKTU-WAKTU. MOHON KONFRIMASI STOK TERLEBIH DAHULU
*S&K BERLAKU
https://ufoelektronika.com/blog/detail/12
1.3 ?
Dust Capacity
1800 W
Max Consumption Power
280x238x395 mm
Set Dimension (WxHxD)
Economic and effortless
One big problem of conventional vacuum cleaner with dust bag is that the user should keep buying new dust bags to change. But Twin Chamber System™ makes you don't need to spend extra effort to find and buy the right dust bags for your vacuum cleaner anymore
Breathe easy. Literally.
Samsung uses HEPA filtration to ensure the cleanest exhaust when you vacuum. By catching micro particles such as dust and other allergens like pollen and mold, HEPA filters deliver a much cleaner and healthier environment. In fact, the exhaust air quality and emission ability of our HEPA filters has been certified by the SLG, the Germany's highly respected testing and certification institute. And some of our house mite and allergen filtration has been certified.
Three simple steps are all you need.
Emptying the bin after vacuuming can be the least pleasant part of your cleanup. Not with Samsung's Easy-to-Empty dust bins. Three simple steps are all it take to finish the job. Just press a button, pull out the dust bin, and pour with a simple flick of your wrist. No hassle, no spills, just a cleaner room made easy.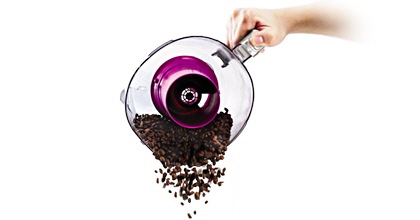 Highlights Samsung Canister Vacuum Cleaner, VCC4540S36
* Dimensi : 280.0 x 230.8 x 390.5 mm
* Power Consumption : 1800 W
* Power Suction : 360 W
* Dust Capacity : 1.3 Liter
* Long Cord : 6 Meter
* Twin Chamber System, menghasilkan daya hisap kuat dan tahan lama
* Dilengkapi HEPA Filter yang memastikan pembuangan udara tetap bersih, dan mefilter partikel - partikel mikro
* Praktis dan Ekonomis, tanpa perlu kantong debu tambahan
* Garansi 1 tahun