Customize kulkas Anda sesuai kebutuhan
Bespoke – Kulkas dengan Modul yang dapat di Kombinasi
Desain Kompartemen dan Modul Kulkas Anda sesuai dengan Lifestyle. Dimulai dengan satu Modul, Anda dapat menambah Modul baru kapan pun sesuai dengan penambahan kebutuhan Anda.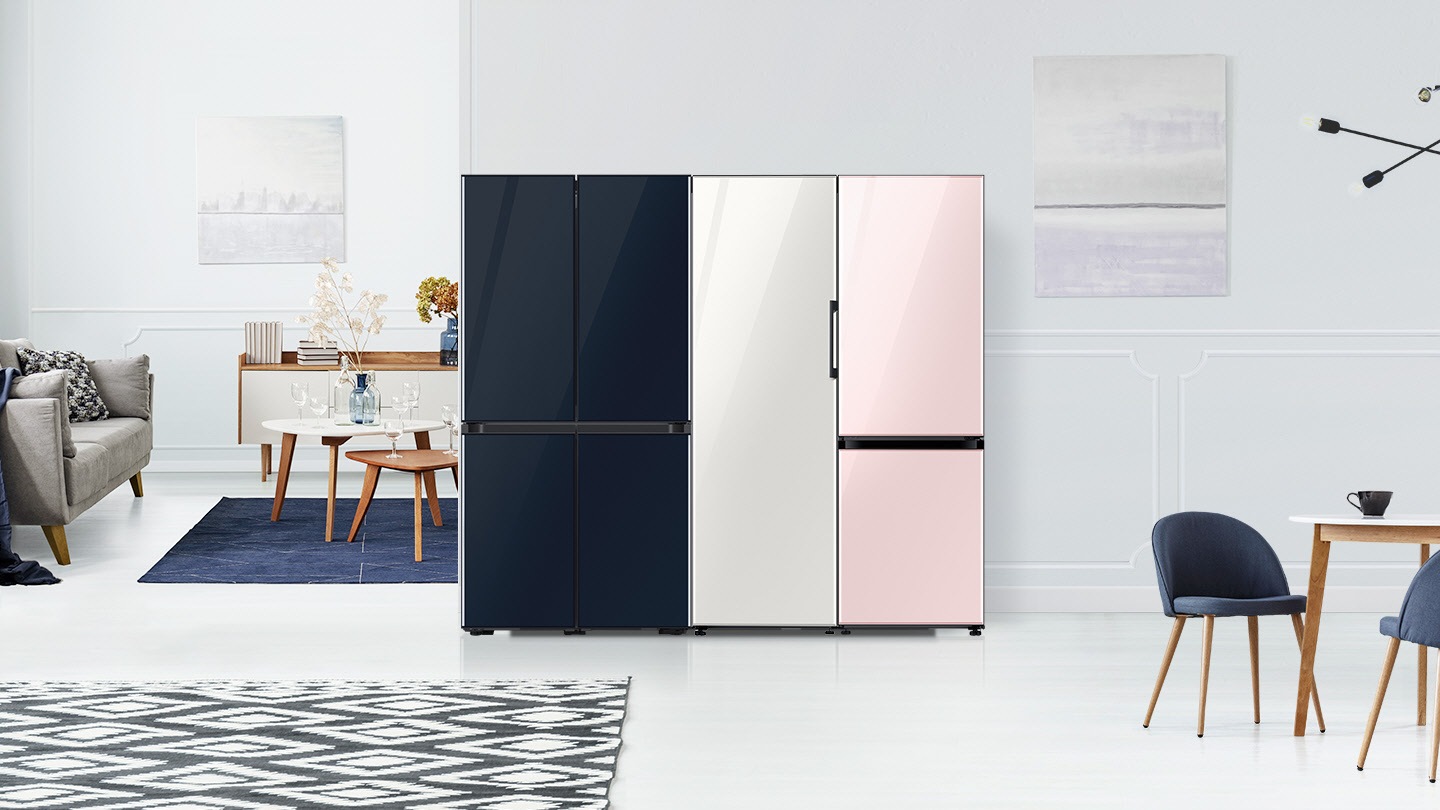 Desain Unik dan Stylish
Bespoke – Desain yang dapat di Customize
Desain dapur stylish dan unik impian Anda dengan Variasi warna seperti Sky Blue, Pink, dan Navy serta variasi finish seperti Matte Glass (Satin) dan Glossy Glass (Glam) dari Samsung BESPOKE.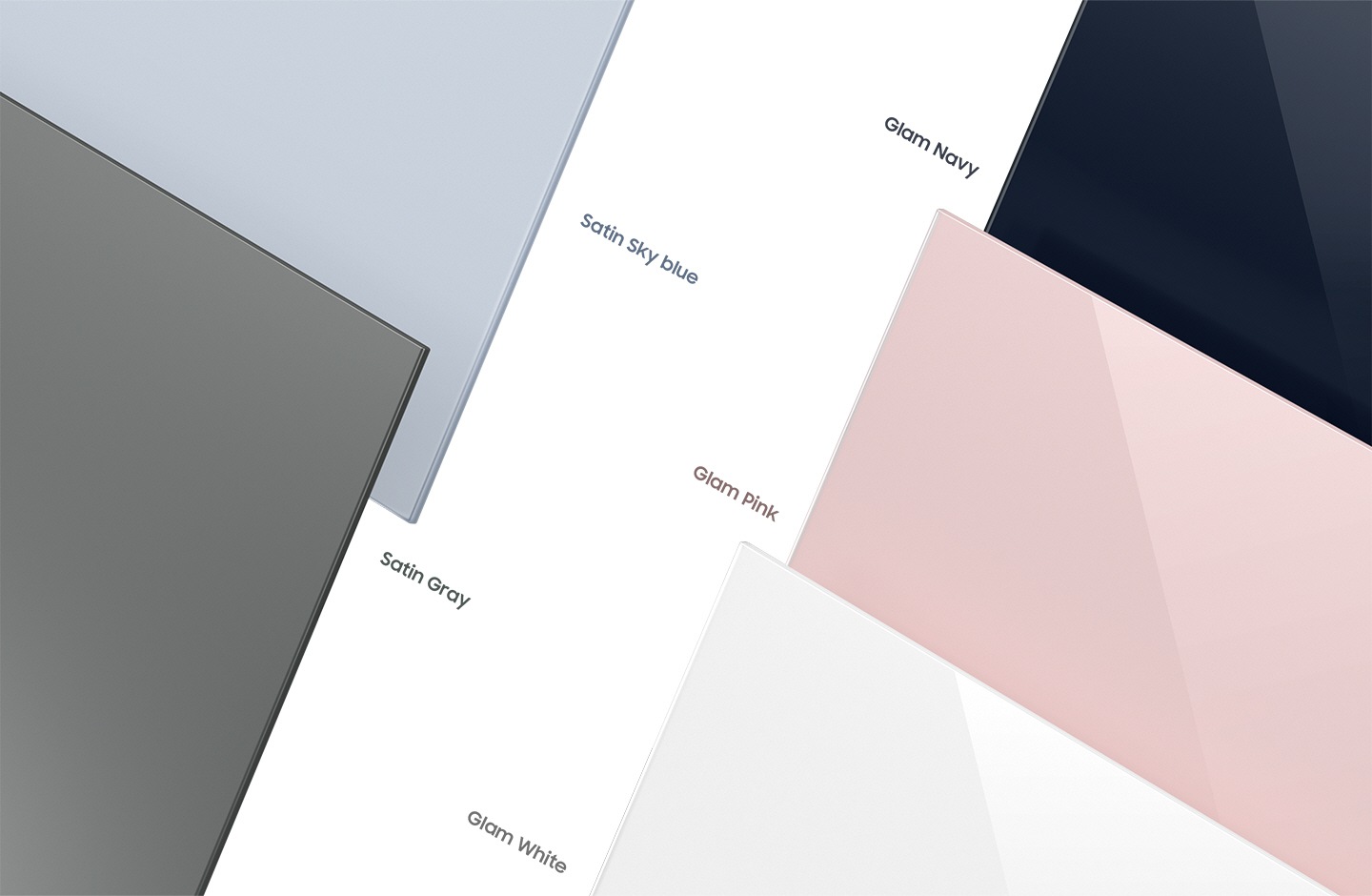 *Bespoke color varies by region.
Desain yang menyatu dengan dapur Anda
Bespoke – Customized Fit
Kulkas BESPOKE dapat melengkapi keindahan dapur Anda, baik diletakan secara mandiri, atau dipadukan dengan Kitchen-set Anda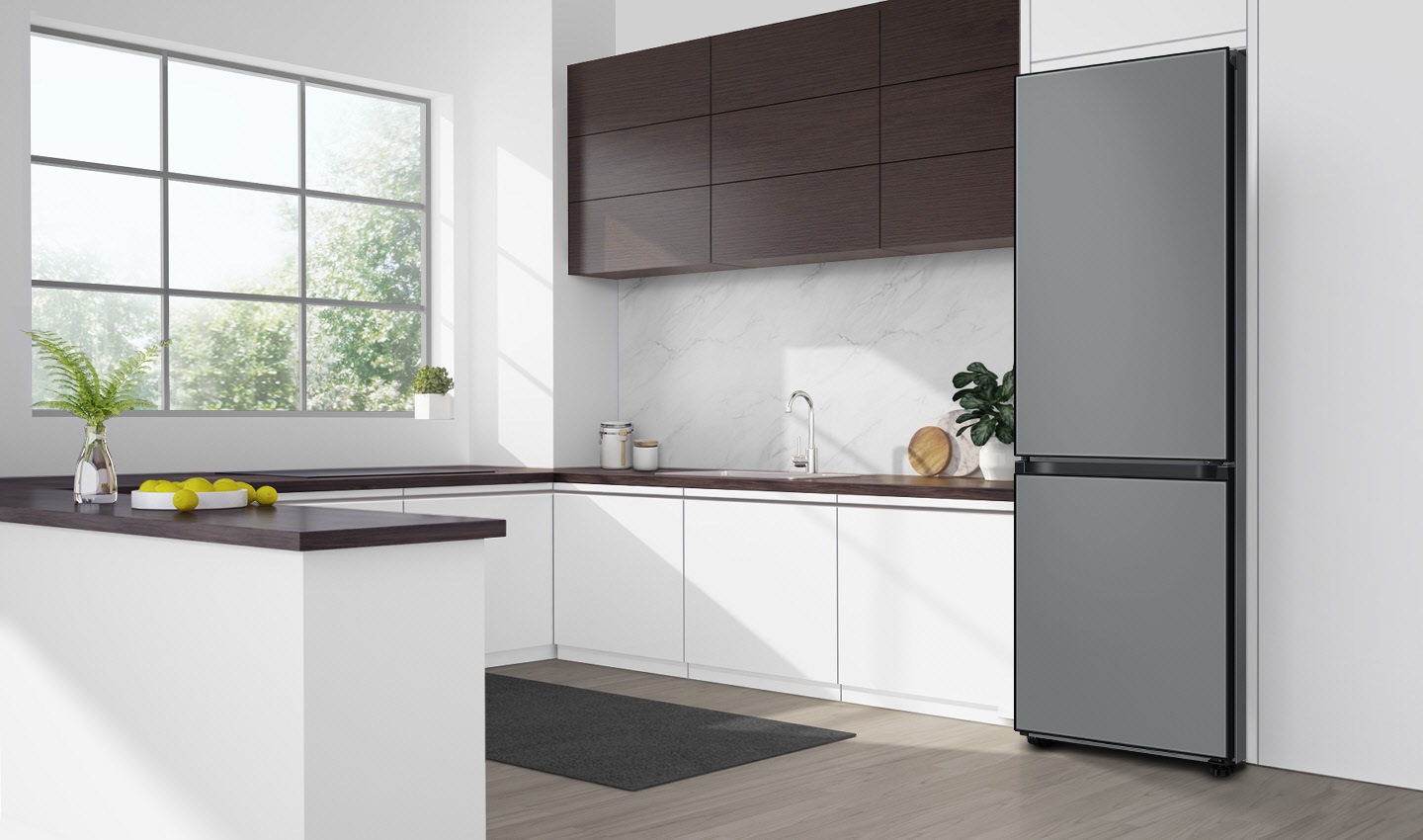 *Above image is for Counter Depth demonstration purposes, there can be Kitchen fit design available in condition of over 700mm depth kitchen cabinet.
Dingin & beku lebih cepat
Power Cool/Freeze
Dinginkan makanan dan minuman favorit Anda lebih cepat dengan sekali tekan. Fitur Power Cool meniupkan angin dingin dengan intens dan Power Freeze menghembuskannya dengan lebih cepat untuk mempercepat proses pembekuan.
Mendinginkan secara merata
All Around Cooling
All Around Cooling memastikan sirkulasi pendinginan merata di setiap kompartemen Kulkas, membantu menjaga bahan makanan Anda mendapatkan kondisi Optimal dan segar lebih lama di manapun dia berada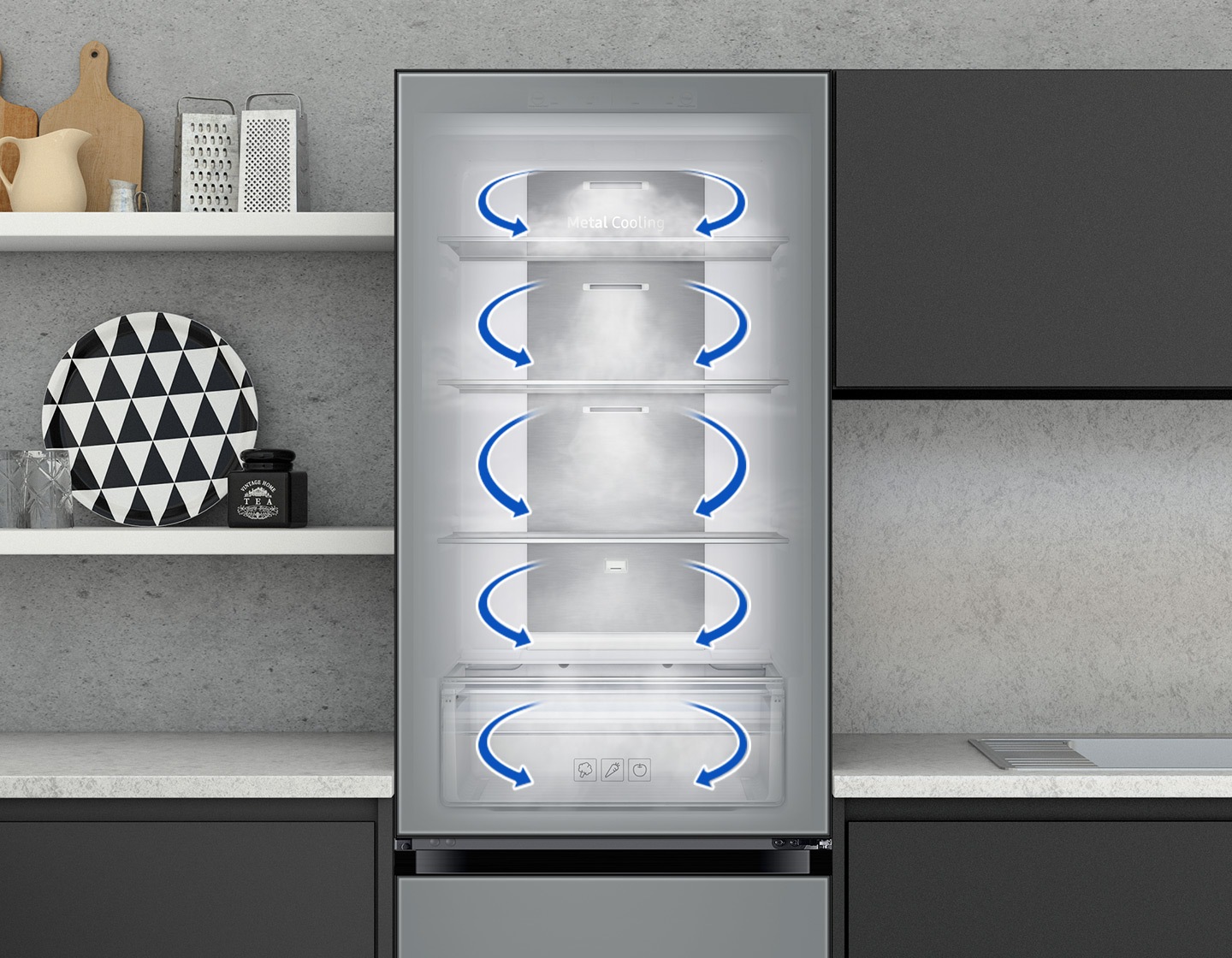 *Metal Cooling feature is applied to specific models.
Menjaga suhu Optimal untuk Kesegaran lebih lama
Metal Cooling
Metal Cooling menjaga Suhu di dalam kulkas tetap stabil, walaupun Anda sering membuka-tutup pintu kulkas. Fitur ini juga membantu mengembalikan suhu optimal saat pintu ditutup kembali.
Frost-free untuk kesegaran Makanan lebih lama
No Frost (*Optional)
Teknologi No Frost membantu Anda menjaga Suhu Kulkas tetap stabil, untuk menghindari lapisan es pada makanan yang tidak diinginkan.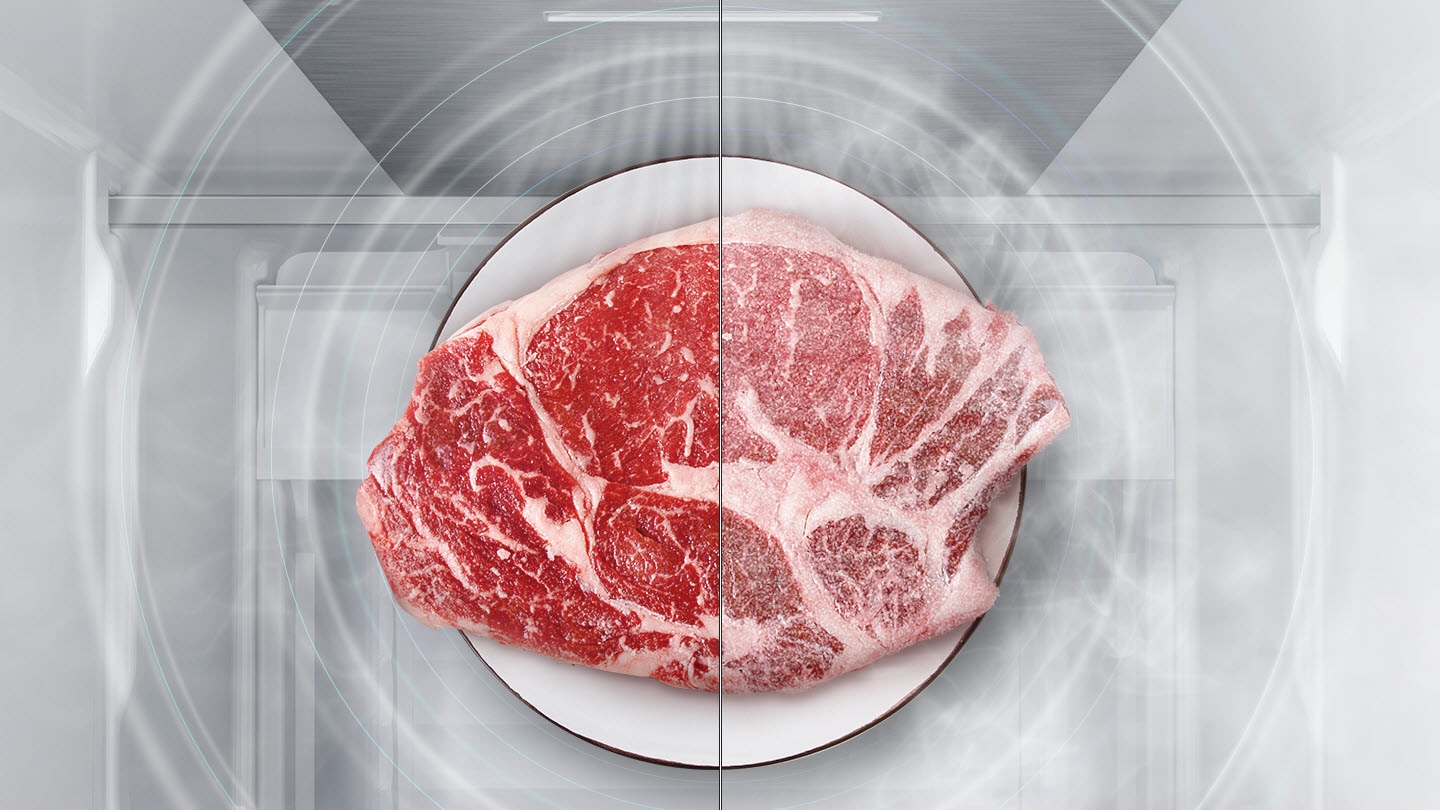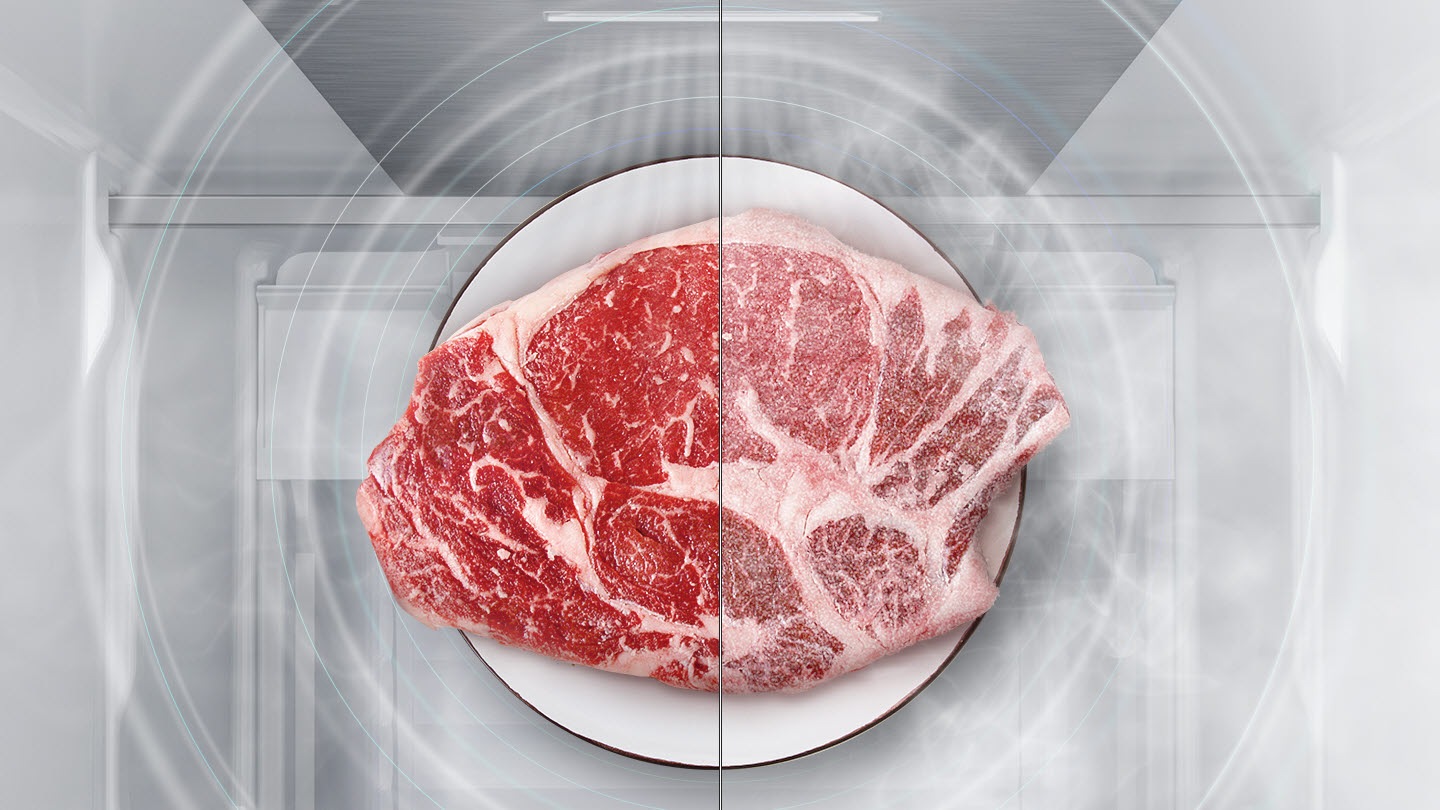 Pintu yang dapat dibuka sesuai keinginan anda
Reversible Door
Pilih arah bukaan pintu kulkas dan freezer sesuai kebutuhan anda dengan Reversible Door. Fitur ini membuat Samsung BESPOKE cocok ditempatkan di mana saja dan Anda dapat menikmati kemudahan sesuai yang diinginkan.
*Metal Cooling feature is applied to specific models.
Akses Cepat untuk Makanan Favoritmu
Full Open Box
Fitur Full Open Box mempermudah Anda menyimpan dan mengatur bahan makanan dengan kompartemen yang dapat dibuka dengan maksimum untuk mempermudah di Akses Anda.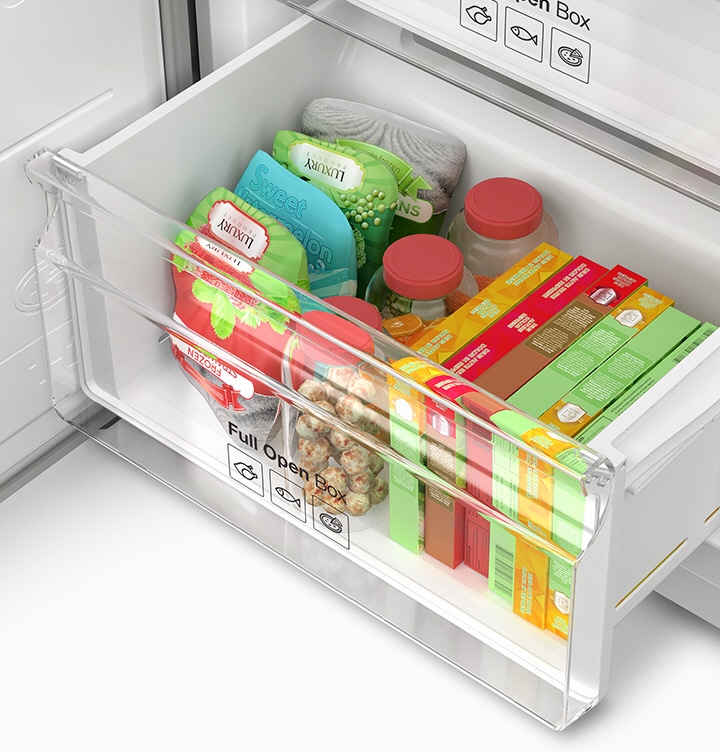 Menyimpan lebih banyak bahan makanan berukuran besar
Big Guard (*Optional)
Fitur Big Guard membantu Anda menyimpan Botol Botol dan Container makanan berukuran besar dengan akses yang mudah
Visual yang jelas di setiap kompartemen
LED Lighting
Temukan bahan makananmu dengan lebih mudah dengan LED Lighting yang membantu menerangi kulkasmu secara merata
Panel Kontrol yang Seamless dan StylishHidden Display (*Optional)Fitur Hidden Display mendukung panel kontrol yang mudah diakses, tanpa mengganggu keseluruhan penampilan desain.Performa Optimal dengan Less EnergyDigital Inverter TechnologyTeknologi Digital Inverter membantu menyesuaikan penggunaan energi sesuai dengan kebutuhan pendinginan. Menggunakan hingga 50% less Energy, dan didukung dengan 10 Tahun Warranty

Spesifikasi
Gross Total(Liter)350 L
Cooling TypeAll-Around Cooling
Net Width(mm)595 mm
Net Depth with Door Handle(mm)669 mm
Net Case Height with Hinge(mm)1853 mm
Net Weight(kg)76 kg
Detail Spesifikasi
Capacity
Gross Total(Liter)350 L
Gross for Freezer(Liter)118 L
Gross for Fridge(Liter)232 L
Net Total(Liter)328 L
Net for Freezer(Liter)98 L
Net for Fridge(Liter)230 L
Physical specification
Net Dimension (WxHxD)(mm)595*1853*669 mm
Net Width(mm)595 mm
Net Case Height with Hinge(mm)1853 mm
Net Depth with Door Handle(mm)669 mm
Packing Dimension (WxHxD)(mm)654*1947*702 mm
Packing Width(mm)654 mm
Packing Height(mm)1947 mm
Packing Depth(mm)702 mm
Net Weight(kg)76 kg
Packing Weight(kg)81 kg
Cooling Feature
No FrostYes
Cooling TypeAll-Around Cooling
Refrigerator Feature
Number of Shelf (Total)4 EA
Dairy CompartmentYes
Wine RackYes
Number of Door Pocket4 EA
Egg Container(Egg Tray)Yes
Interior LED LightTop LED
Shelf MaterialTempered Glass + Metal Deco
Number of Vegetable&Fruit Drawer1 EA
Power Cool FunctionYes
Freezer Feature
Number of Drawer3 EA
Power Freeze FunctionYes
Ice TrayYes
General Feature
Door ReversibleYes
Door AlarmYes
RefrigerantR-600a
CompressorDigital Inverter Compressor
Cooling CoverMetal Cooling Duct
Exterior Feature
Display TypeInternal
Door HandleRecess
ColorGlam White+Glam Pink
Door TypeBESPOKE